Good morning!
What are you guys doing for the next six weeks?
As I mentioned a month or so ago, since resigning my lease here in New York I am on a mission to give my bedroom the appropriate love and attention it so deserves. Living in a rental is hard, especially in New York. Things can change so fast – roommates, jobs, buildings can be sold, bedbugs are real.. the list goes on. My main challenge with living in a rental in New York is that I never know how long I'm going to stay. A year can go by so fast so I never want to invest too much in furniture as it may (literally) not fit into a studio whenever I move out of here.
So anywho, after talking to Gabby at length about this she suggested I take part in the One Room Challenge as a guest since my redesign was pretty much lining up with the fall go-around. Linda from Calling It Home was also nice enough to convince me. So here we go. With whole new year on the horizon I have decided to freshen it up around here and will be documenting my re-design process along with the One Room Challenge!!
I'm working with several amazing brands and can't wait to share my progress with you guys over the next six weeks. Let's get to it, shall we?
BEFORE: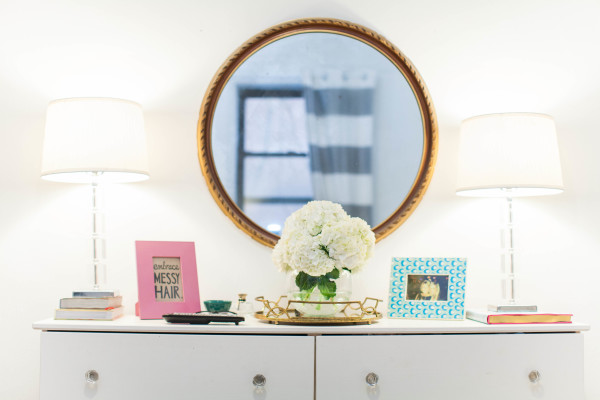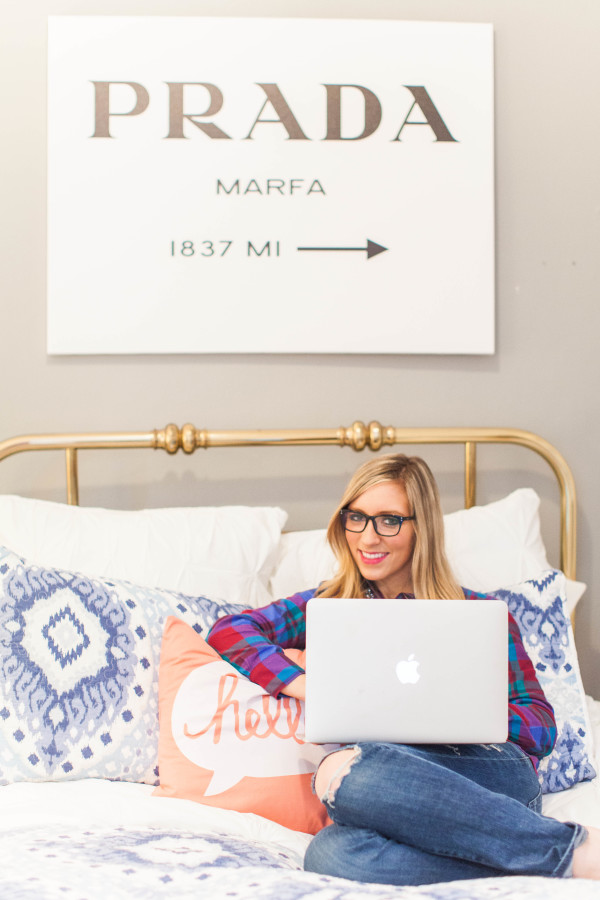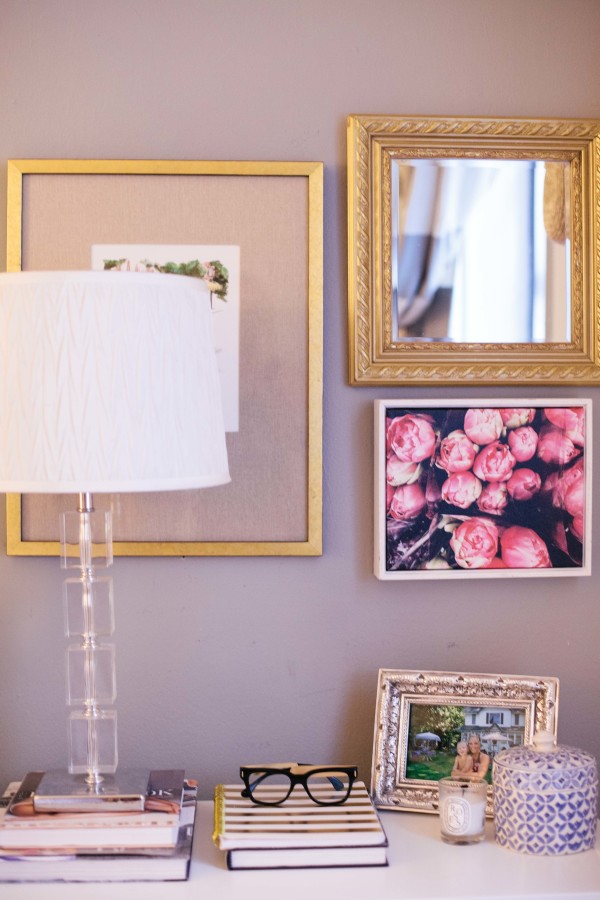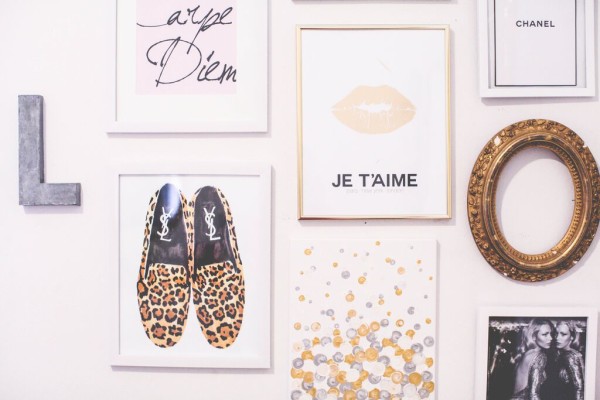 Here's what needs to get done.
My super needs to paint these beautiful (and dirty) white walls of mine. I'm very excited to be partnering with BEHR on my paint color! After visiting Home Depot, I realized how many paint colors there are to pick from. How is a girl ever to decide?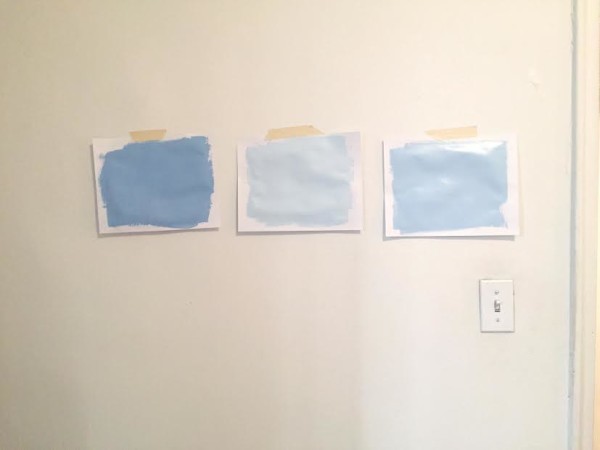 I have determined I want a shade of blue (surprised?).  After living with one gray wall for two years, I'm so over it! Once I narrowed down the colors, I painted three different sheets of paper with my top picks and taped them to my wall. What I've learned is that it's important to look at the samples at different times of the day as the light will effect how the color appears on your wall. Which color is your favorite?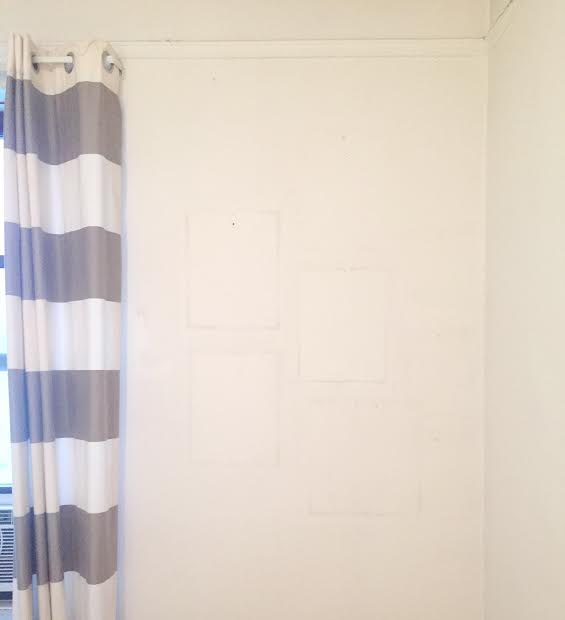 2. I need a whole new gallery wall refresh.
3. These gray and white striped curtains have got to go.
4. Sam inspired me to invest in custom bamboo shades! So I will be partnering with the Shade Store to get these made! My samples are below. There are so many beautiful options – need to figure out the best option given my paint color and curtain material.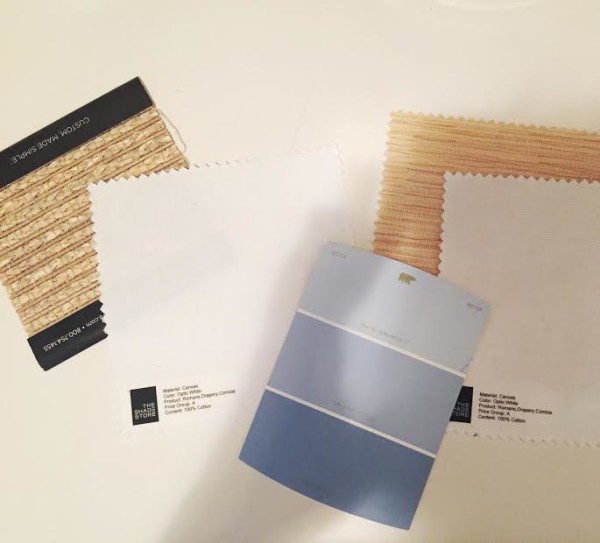 5. Speaking of curtains, also need some beautiful new hardware – particularly brass.
6. New bedding! All of the new bedding.
7. A fun and colorful rug.
8. A new piece of art for above my bed which has already gotten delivered.
9. Update my bedside table situation. I would really like to invest in a desk since I mostly work on my couch or bed at the moment. It'd be nice to have a more formal work space in here – somewhere…
1o. Last but not least, debating on investing in a new mirror for above my dresser. This one below I picked up from a flea market in Connecticut for $15 dollars. It might be about time to get a new one… thoughts?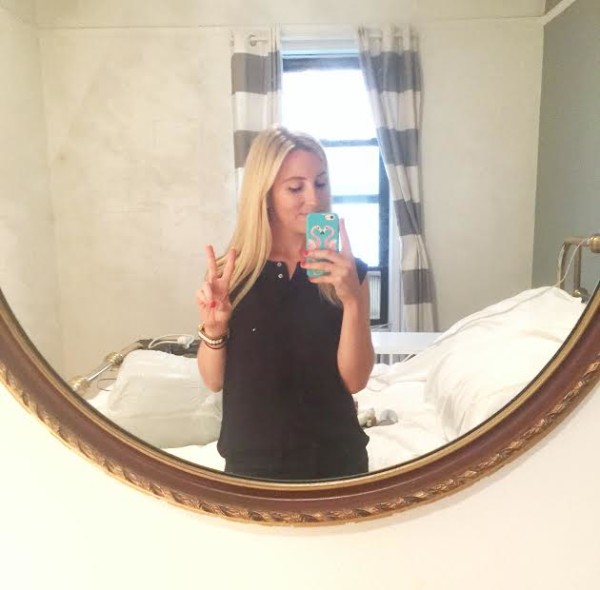 Every Thursday I'll be posting about my progress so be sure to check back next week.
You can keep up with all of the participants and guests in the One Room Challenge right this way!