Friday!!! Or, Fri-YAY…as I like to say.
My Friday Round Up feature is BACK. I love today's picks. Shall we?
One. You know I love a good coffee table book. American Fashion Designers At Home has been on my list for quite some time. There's just something about creative types sharing their homes – from quirky to classic, it's interesting to see how some of the most famous fashion designers like to unplug.
Two. Have you heard of Biscuit Home? I hate to admit, but I forget to look there sometimes for bedding and various home decor products. I came across their Wimberly sheets and they just scream spring, don't they?
Three. Oh, Pottery Barnd. How I love thee. I recently came across this gold chevron jewelry tray (also comes in a canister version as well). I'm in the market for anything to help me stay chicly organized, you?
Four. OK. Can we please talk about this PB Teen Tufted Desk Chair for a second? If only I had a desk, this chair would make the perfect companion. So cute. So preppy. Just what the Dr. ordered.
Five. I recently stopped by Julia's apartment in CT. Her apartment is full of these beautiful blue and white ceramic jars, so you know what? I'm into it. I think this might even call for a whole blog post dedicated to white and blue canisters.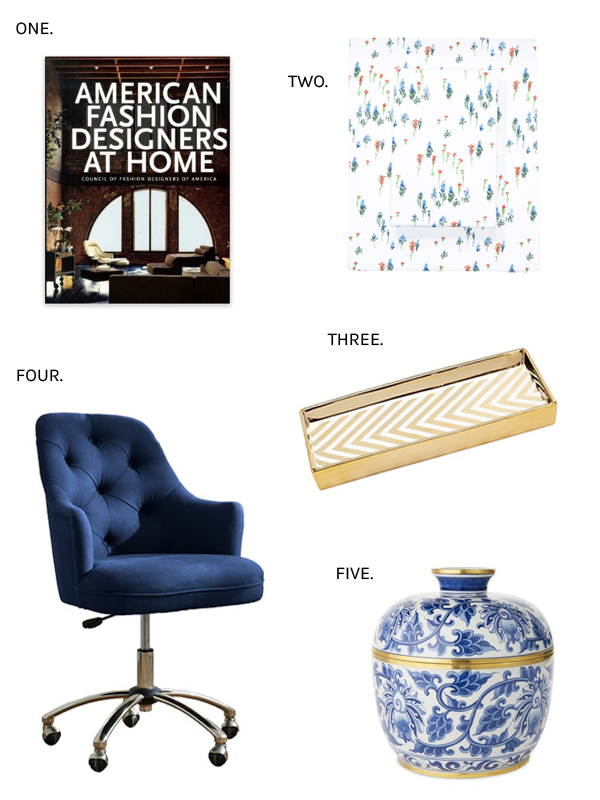 American Fashion Designers At Home // Biscuit Home Wimberly Sheets // PB Teen Tufted Desk Chair // Gold Chevron Accessories Tray // 10″ Vine Covered Bowl, Blue/White