When it comes to interiors, there are a select few things that my eye is automatically drawn to – insert brass accents. Whether it's kitchen cabinet hardware, bathroom faucets, entryway mirrors, or accent tables, I absolutely love the way brass provides texture, elegance and definition to a room.  And when I say love, I mean four pieces of furniture in my room all contain brass detailing including my mirror, TV stand, bed frame (pictured below) and the hardware on my nightstand.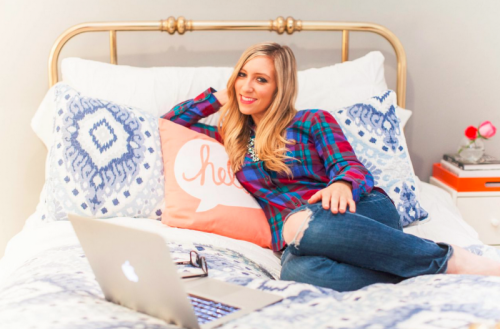 Besides its rich gleam and sculptural weight, I also love brass because it's known to last for years at a time (i.e. my bed frame which is actually my mom's from high school. Can you believe it? It's been in our family for over 35 year and somehow it's made its way to my tiny New York apartment.
When it comes to decorating with brass, here are a few key tips and rules I've picked up along the way:
Don't mix metals when it comes to architectural details. I'ts important to stick to one mental of choice particularly in the same room to help with the overall color scheme and consistency.
Need a spring refresh? No need for major renovations, a fresh coat of paint and new hardware can instantly update your kitchen and/or bathroom appliances and decor.
Brass is an ideal metal to use in the bathroom. With it's tested durability, it's known by architectures and designers near and far as a reliable and sustainable metal and resource.
If you're decorating with unlacquered brass, be aware that minerals found in tap water are known to cause spotting (you can  use a soft cloth to get rid of any spots)
Light fixtures are a great way to incorporate the metal of the moment into your home. Whether you're looking for a task, pendant, or floor lamp, lighting made out of brass has the ability to create a halo effect to brighten any room.
Last but not least, you can refinish just about any metal (excluding aluminum) with a brass finish. Remember that old filing cabinet or shelve that's sitting in your garage? Give it a glamorous update with a brass finish.
What's your take on brass? Do you love it as much as I do or do you have a metal of choice?